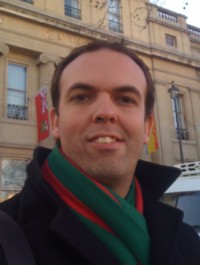 Thursday, March 3, 2011, 3:30-5:30 PM
John Wrighton, University of Brighton
Ethics and Politics in Avant-garde and Modern Poetry
Re-imagining notions of democracy and community, John Wrighton's work explores the dynamic relationship between the ethical imperative and poetic practice in experimental work from the Objectivists of the 1920s, through to detailed analysis of the Black Mountain and Beat writers of the post-war era, and the post-Vietnam poets.
Dr. John Wrighton is the author of Ethics and Politics in Modern American Poetry (Routledge, 2010), a book praised for its prominent contributions to the theorizing of the "ethical turn" in literary and cultural studies. Dr. Wrighton is a Lecturer at Brighton University. He is currently on secondment at the Modern Literature and Culture Research Centre.
The lecture is part of the MLC Lecture Series 2010-2011 and is sponsored by the Canada Research Chairs program.
Where: Heaslip House, 7th Floor, 297 Victoria Street
Contact: Karen McEwen, MLC Coordinator
admin@mlc.ryerson.ca
416-979-5000 ext. 7668