Strip(p)ed Bare: The Life and Art of Elsa von Freytag-Loringhoven

​

Dr. Irene Gammel will present a slide lecture, followed by a Q & A, on the life and work of the Baroness Elsa von Freytag-Loringhoven. Freytag-Loringhoven, considered by many to be the mother of Dada, was a poetic and artistic innovator celebrated for her gender-challenging "lived performances," as well as early found object sculpture.
Irene Gammel is Professor of English and holds the Canada Research Chair in Modern Literature and Culture at Ryerson University, Toronto. She is the author and editor of eight books, including the internationally-acclaimed Baroness Elsa: Gender, Dada and Everyday Modernity: A Cultural Biography (2002). Gammel is best-known for her scholarship on gender and modernism, her research having helped uncover the earliest roots of modern and feminist performance art. Gammel's latest book, Body Sweats: The Uncensored Writings of Elsa von Freytag-Loringhoven is co-edited with Suzanne Zelazo and will be published by MIT Press in October, 2011.
Elizabeth Dee Gallery
545 West 20th Street (between 10th and 11th Aves.)
New York, NY 10011

The lecture will occur in conjunction with Meredyth Sparks' exhibition Striped Bare, Even and Again, September 15 to October 29, 2011. The event is free and open to the public.
Seating is limited. Please RSVP to kevintobin@elizabethdee.com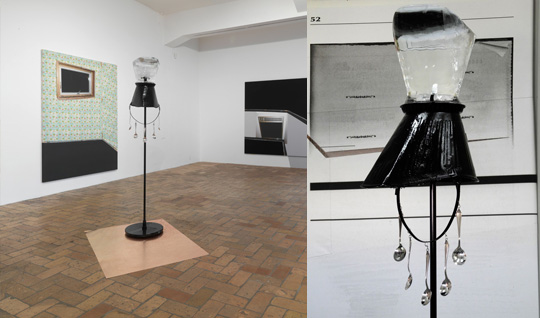 Figure One: The Baroness' Bucket by Meredyth Spark
A sculpture inspired by the Baroness Elsa, who wore a coal bucket as a hat.