Dear MLC Friends and Queer Sisters Salon Participants:
I am writing to thank you all for the terrific evening last night, Queer Sisters: Berenice Abbott and Baroness Elsa– A Salon Performance. We enjoyed a lively salon with over eighty guests from Ryerson, Toronto, and indeed from across Canada all of whom were profoundly engaged in the performance and installations. All the components came together nicely, and we were able to explore the multiple scholarly and creative dimensions sparked by the interactions of Baroness Elsa and Berenice Abbott from 1918 to 1927.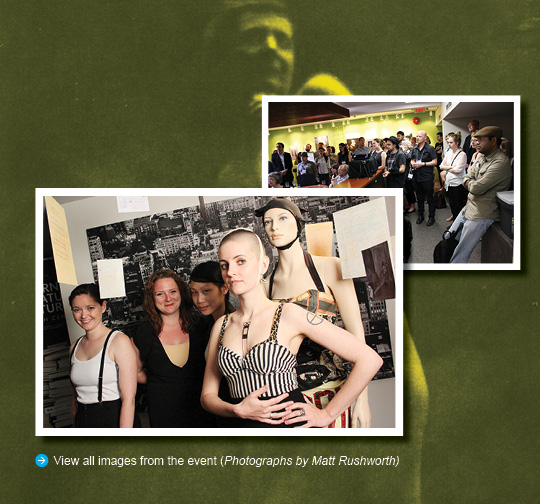 I would like to thank David Jones (MLC Intern and our co-curator) not only for providing the evocative "flesh" video work on Baroness Elsa's sound poem "Teke Heart (Beating Heart)" and "Pastoral—To Bernice" slide show, but also for bringing such a vibrant heart beat to the project; Communication and Culture PhD student Emma Doran, for excellent and inspired choreography; and the consummate performers, Annie Wong, Niomi Anna Cherney, Coral Aitken, and Cassandra Witteman. It was great fun working together and seeing this project grow and develop from week to week, and become more and more polished. I hope together we can extend this effort into future projects. Several visitors and spectators commented to me on how impressed they were with your work—high praise from some well-established scholars!
I want to thank Matt Rushworth (MLC RA) for taking lively photographs and creating for us a Digital Salon, which we hope to upload (with a few edits) to the web next week. Stay tuned and check us out.
Thank you to Zainab Feroz (MLC URO Scholar; ACS student) for her "Research in Action: Berenice Abbott Letter Transcription" installation, which also engaged the audience with a "research in action" connection.
I am profoundly grateful to the MLC team who worked so hard behind the scenes to help make this evening such a success, all at relatively short notice: Cait MacIntosh (MLC Coordinator—thank you for coordination of the team); Amy Smith (MLC Communication—thank you for the buzz and the terrific tours); Cathy Waszczuk (MLC RA—thank you for your amazing multi-tasking and the late night work); Andrew McEwan (MLC Intern—a consummate professional at the registration table—thank you); Kate Atkinson (MLC RA, Literatures of Modernity—thank you for all your support); Valerie Velardo (MLC Research Resident, ComCult MA student—thank you for creative postering); and Heather Lenehan (MLC RA, ACS—thank you for the lovely green fabric!). I would also like to thank several partners for generously providing support, including Cat's partner for helping with last minute cutting of foam core!!!
I want to thank Michael MacDonald and Mike Hemsworth, who provided timely and expert technical support on Saturday during our set-up.
I am extremely grateful to Doina Popescu (Director Ryerson Image Gallery), and Gäelle Morel (Curator Ryerson Image Gallery), whose wonderful Berenice Abbott: Photographs exhibition (AGO), and conference provided the context for Queer Sisters. Vielen herzlichen Dank!! (And for those of you who haven't yet seen the show at the AGO, please do).
I am very grateful to Jean-Paul Boudreau (Dean of Arts), for his kind words, and for drawing our contest winner. I would like to thank our sponsors and donors, in particular Karen Mulhallen (MLC Research Associate, English), some of whose rare donations we were able to showcase in our display case.
I would like to thank the many guests who were able to join us on a Saturday evening including Carole Gerson (Simon Fraser), Jeanne Perrault (U of Calgary), Mark Lovewell (Chair of Ryerson Senate), Rick Crilly (author), Charles Huisken (This Ain't the Rosedale Library), Jason Boyd (English, Ryerson), John Wrighton (MLC International Visiting Fellow), Peter Higdon (Collections Curator, Ryerson Image Centre), Bonnie Rubenstein (Artistic Director, Scotia Bank Contact Photography Festival), Marlene Kadar (York U), Marusya Bociurkiw (RU Radio and Television Arts), Allison David Matthews (RU Fashion/MLC Associate), Vlad Skotar (winner of Queer Sisters contest), Rolf and Maria Meindl (author), Briana Blades (Trent), Reg Beattie (OCAD), Azar Masoumi (RU Sociology), to name but a few. I also wish to thank those who supported us from afar.
Please see our gallery of images taken at the event.
Queer Sisters: Berenice Abbott and Baroness Elsa – A Salon Performance. from MLC on Vimeo.
Thank you and please stay in touch with the MLC Research Centre. It's a privilege to have you involved! Follow us on twitter at MLC_Research and watch for our upcoming newsletter.
Irene.