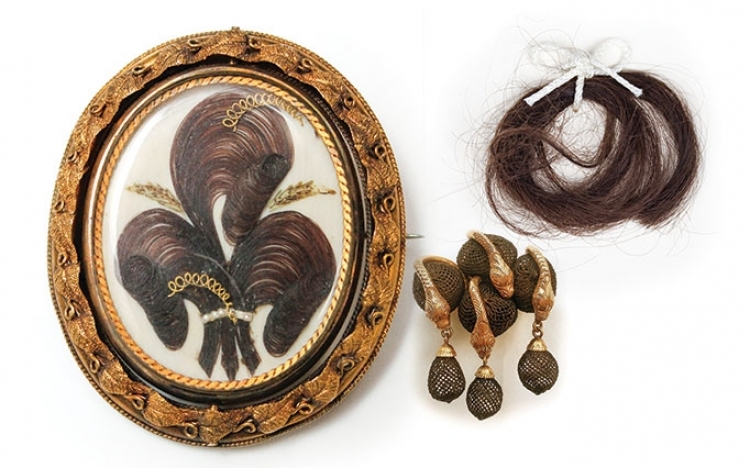 For Victorians and Edwardians, a lock of hair cut from the head functioned as a lively talisman of memory. More than a frivolous beauty accessory, hair jewellery and keepsakes allowed persons to maintain relationships to absent bodies and histories.
Talismans of Memory, Love, and Beauty showcases over 65 original objects from the nineteenth and early twentieth centuries. Highlights include a lock of brown hair believed to have belonged to iconic Canadian war heroine Laura Secord and a decorative commemorative human-hair wreath, on loan from the archives of the City of Toronto's Museums and Heritage Services and the Annunziata Morant Collection. Other highlights include 3 contemporary sculptures by visual artist Colleen Schindler-Lynch, which use hair to physically manifest grief, and 38 pieces of Victorian mourning and friendship jewellery with selections from the Carole Tanenbaum Vintage Collection.
This exhibition is curated by Dr. Esther Berry as part of her SSHRC Postdoctoral Fellowship held at the MLC Research Centre and supervised by Dr. Irene Gammel.

Exhibition

Thursday, August 27 – Friday, September 28
Monday – Friday, 11:00 AM – 3:00 PM
MLC Gallery, 111 Gerrard Street East
Free of charge and open to the general public

Public Reception with curator's talk and refreshments

Thursday, September 13, 6:00 PM – 9:00 PM
MLC Gallery, 111 Gerrard Street East
Free of charge and open to the general public