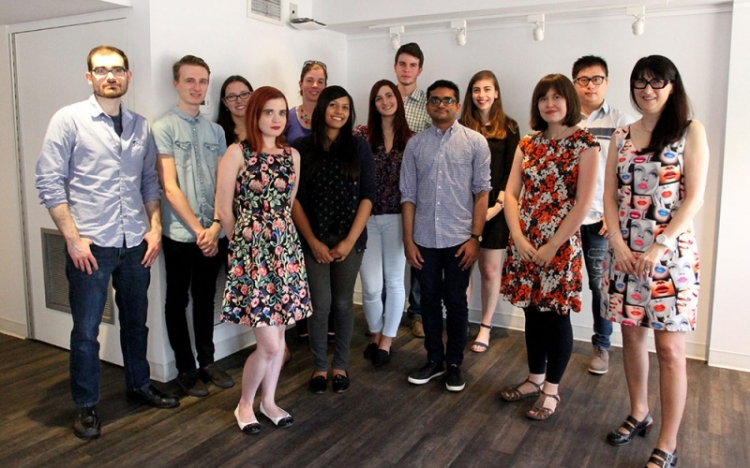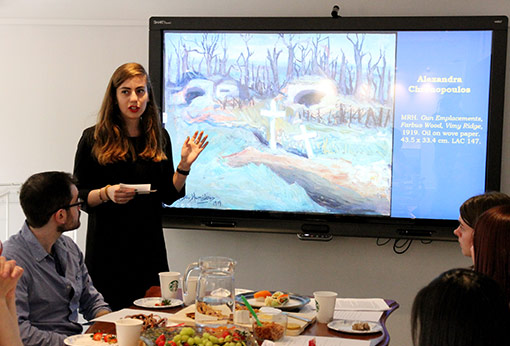 Stories of war, nationhood, and commemoration were the focus of a mini-summer symposium and workshop organized by the Modern Literature and Culture Research Centre for the MLC's team of students and scholars on Friday, July 24, 2015.
A walkthrough of a geo-mapping program created at the MLC that marks the work of Canadian World War I battlefield artist Mary Riter Hamilton on interactive maps of the French and Belgium battlefields opened the workshop. It was delivered by Michael Guyenot as part of his practicum project for his MA degree in Literatures of Modernity. Consequently, researchers zoomed into specific locations and reflected on individual pieces from Hamilton's unprecedented collection of over 300 battlefield paintings recorded just after the Armistice. The team analyzed the history and significance of the locations Hamilton painted at and asked what brought her there: discussing the famous clientele that stayed at the château de Camblain-l'Abbé, the Battle of Vimy Ridge, the isolated graves at Passchendaele, the formation of the Loos mine crater, and other telling details that give insight into the untold story of the woman behind the canvas.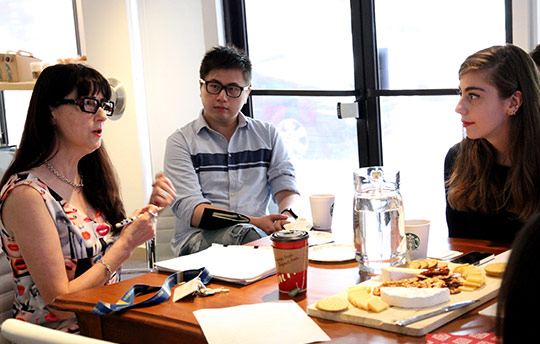 Although the implications researchers found in examining specific pieces of Hamilton's collection differ, it is clear that Hamilton's paintings share a common impulse to remember the tragic loss and devastation suffered by the Canadian soldiers who fought and died in the locations her paintbrush touched.
Presenters included Cameron MacDonald, Stefanie Zuccarini, Shalika Sivathasan, Teresa Maljar, Alexandra Chronopoulos, Fin Lemaitre, Danielle Van Wagner, Sara McGuire, Anna Krentz, and Henry Gomes.
The symposium was chaired and moderated by Dr. Irene Gammel, who shared her insights into the research methodologies as well as her vision for the project. The symposium is also a lead into a symposium organized through Dr. Gammel's upcoming Fall undergraduate course, English 307: In Flanders Fields (Special Projects Course), which will culminate in a special event on the topic of World War I. Watch for a Call for Papers by subscribing to our newsletter and following us @MLC_Research and Facebook.com/MLCRC.