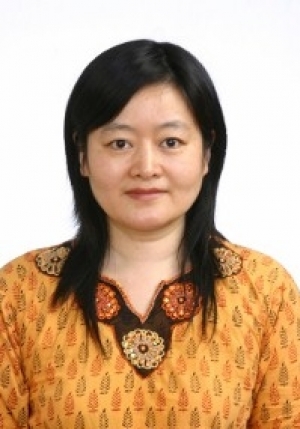 Ainong is a proud MLC Alumna and no longer with the Centre.
Ainong Ma is the renowned Chinese translator of fiction by Annie Proulx, J.K. Rowling, L.M. Montgomery, and many others. The Senior Editor and Director of Foreign Literature Department at People's Literature Publishing House in Beijing, Ainong Ma was the recipient of a 2010 Canada-China Scholars' Exchange Program (CCSEP) award, funded by the Department of Foreign Affairs and International Trade Canada, and administered by the Canadian Bureau for International Education (CBIE). This award allowed Ainong Ma to join Ryerson's Modern Literature and Culture Research Center in the 2010 fall term as an International Research Associate. Supervised by Dr. Irene Gammel, Ainong Ma conducted research on L.M. Montgomery's Emily series, as well as on other Canadian writers.
Read more about Ainong Ma here.
Translation Slam
Ainong Ma participated in Toronto's Blue Metropolis Poetry Translation Slam on Saturday, June 19th, 2010 at 6 pm at the Isabel Bader Theatre, 93 Charles St. West, Toronto. Organized in collaboration with Cirque du Soleil, this event took take place in English and in Mandarin in the Canada Pavilion and at the Shanghai Writers' Association on September 13th and 14th 2010.
Click here for more information.