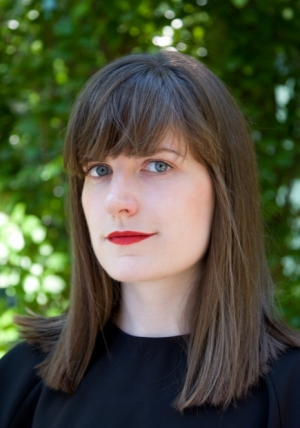 A PhD student in the joint Communication and Culture program at Ryerson and York Universities, Myriam Couturier holds an MA in Fashion Studies from Ryerson University (2015). Myriam's work highlights the relationship among fashion, gender, and material and visual culture, most evident in the extensive and original primary research she conducted in her MRP, "Professional Glamour and Feminine Mystique: Barbara Moon's Style in Words and Wardrobe." Her doctoral dissertation, supported by the Ontario Graduate Studies (OGS) Scholarship, examines historical collections of twentieth-century clothing and printed fashion ephemera in Toronto, and their connection to the city's cultural history. Focusing on the spaces where fashion has been produced, consumed and performed in the city, this project considers clothing archives as tools for the construction of personal identity and the preservation of public memory. Moreover, it examines these collections as sites of individual creative expression that provide material insight into local history through both rare, fashionable objects and ordinary, everyday artifacts. Myriam has her office at the MLC, where she is also involved as an assistant archivist and curator, engaged in a culture of top-tier research and archiving practices.
Selected Peer-Reviewed Publications
Couturier, Myriam. "The Best Costume for Today: Grey Gardens on Film and on the Fashion Page." Fashion Studies Journal Issue 5 (forthcoming). Essay.
Couturier, Myriam. "Artist Textiles: Picasso to Warhol." Dress: The Journal of the Costume Society of America 42.1 (2016): 69-72. Exhibition Review.
Selected Peer-Reviewed Conference Papers
Couturier, Myriam. "'Dignity and Utility': Dusty Rose, Glass Blocks and the Fashion Retail Space of the 1930s and 40s." Retailing, Architecture and Material Culture: Historical Perspectives, University of Wolverhampton, UK, May 22, 2018. Conference paper.
Couturier, Myriam. "The Body as Notebook: Yohji Yamamoto, Walter Benjamin, and Avant-Garde Fashion in the City." 2018 Popular Culture Association National Conference, Indianapolis, March 28-31, 2018. Conference paper.
Couturier, Myriam. "Gender and Fashion in Federico Fellini's 8 1/2 and La Dolce Vita." XVIIth Film and History Association of Australia and New Zealand (FHAANZ) Conference, Queensland University of Technology, Brisbane, July 1-3, 2015. Conference paper.