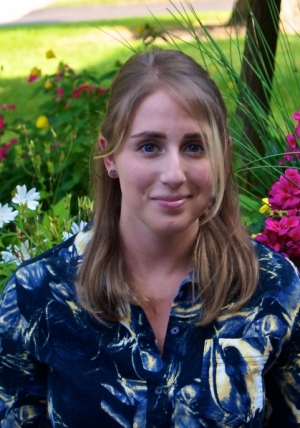 Sydney is a proud MLC Alumna and no longer with the Centre.
Sydney Tyber's MA studies in Ryerson's Literatures of Modernity program (2013-2014) focus on intersections of corporeality in women's literature, avant-garde performance, and contemporary feminist theory. Supported by a SSHRC Joseph-Armand Bombardier Canada Graduate Scholarship, and supervised by Dr. Gammel, Sydney's Master's research paper explores the socio-cultural implications of what she terms "simulated affects" in twentieth century women's writing, by comparing a selection of Mina Loy's modernist poetry and Caroline Bergvall's postmodern performance writing. Sydney holds an Honours BA in English Language and Literature (2013) and a BEd (2013) from Brock University.
Conferences
"How Can We Talk About Affect in Virtual Worlds?: Abramovic's Imponderabila in Second Life." (corpo)realities: The 2nd Annual Indiana University Department of Theatre and Drama Graduate Symposium on Theatre & Performance Studies, Department of Theatre and Drama, Indiana University, March 2013.
"Affect and Synthetic Cyborg Theatre: how can we talk about affect in virtual worlds?" Critical Performance Theory Symposium, Department of Dramatic Arts, Brock University, April 2012.