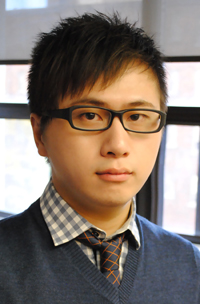 Ryerson's International Student Services Magazine (ISS) released a feature on Jason Wang, an international graduate student in the Literatures of Modernity program, who is involved at the MLC Research Centre.
Jason Wang chose to study at Ryerson because he wanted to work with Dr. Irene Gammel, Canada Research Chair in Modern Literature and Culture and director of the Modern Literature and Culture Research Centre at Ryerson. "I came to Ryerson with the very strong intention of what I wanted to do and who I wanted to work with," he said.
Wang plans to launch an "inquiry into the interface of visual culture, metropolitan and identity negotiation," for his master's level research. He hopes to complete a PhD and work in academia. "I love the Canadian academic community so much because many Canadian scholars are internationally acclaimed. The scholars are well diversified, open minded, and very good at mentoring students. Ryerson is located downtown which supports my research interests of urban culture and consumerism," he said.
The Literature and Modernity program has impressed Wang. "Our program is well prepared for us. They had their own orientation. A good thing was the faculty advisor because we can have a personal relationship. We had a departmental welcome party hosted in the Arts and Letters Club where faculty members welcomed us." One major difference between the academic cultures of Canada and China are the close bonds that students can develop with their professors, an experience that Wang initially did not expect.
Hoping to continue his academic career in Canada, Wang has utilized ISS' programs and services to help him achieve his goals. "ISS works really hard to help students by organizing academic and social activities. The dissemination of information at ISS is marvelous. I received a lot of valuable information," he said.
Click here to see the full feature.
View Jason's MLC profile.