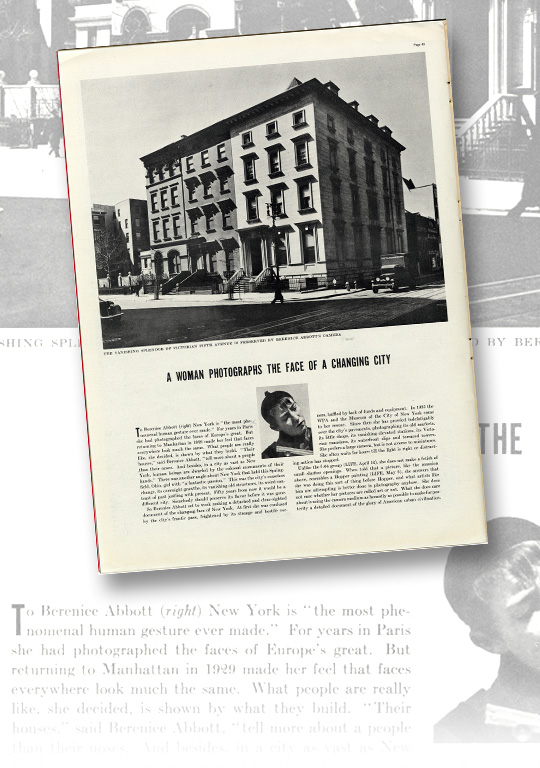 The Modern Literature and Culture Centre (MLC) has recently acquired a January 1938 copy of Life Magazine, featuring a six-photograph feature on Berenice Abbott entitled "A Woman Photographs the Face of a Changing City" (40-45).
After spending many years photographing famous faces in Paris, the Springfield, Ohio, native returned to Manhattan in 1929 to "set to work making a detached and clear-sighted document of the changing face of New York." The return "made her feel that faces from everywhere look much the same" and turned instead to capturing the diverse buildings and landscapes available in the city. The unnamed author of the article concludes: "[Abbott] does not care whether her pictures are called art or not. What she does care about is using the camera medium as honestly as possible to make for posterity a detailed document of the glory of American urban civilization" (40). The MLC will be hosting a Berenice Abbott performance and small exhibition on May 26th from 5-6pm at which the Life magazine will be featured.
This issue of Life also includes Cecil Beaton's portrait of the "great literary experimentalist" Gertrude Stein and her partner Alice B. Toklas. Beaton is quoted in the caption as saying that "those who know them know that Toklas is at least 50 percent of the works" (49).
"Life on the American Newsfront: The Most Famous Legs in History Lose Their Job" is a two-page spread about Marlene Dietrich's rise to and fall from fame. The subtitle of the main photo reads "Marlene Dietrich's legs, exploited by Paramount in pictures like this, were chiefly responsible for making her the highest salaried woman in the world" (18); however, Dietrich lost her job with Paramount Pictures on December 22, 1937 following six box office "flops." Paramount had brought Dietrich from Germany in 1930 and "made her name a byword for exotic foreign glamour," and the brief article asks why Paramount's leading lady lost her sparkle — was it the fault of her first director, or had "the Age of Exotics" simply ended? Life provides no answers to these questions, of course.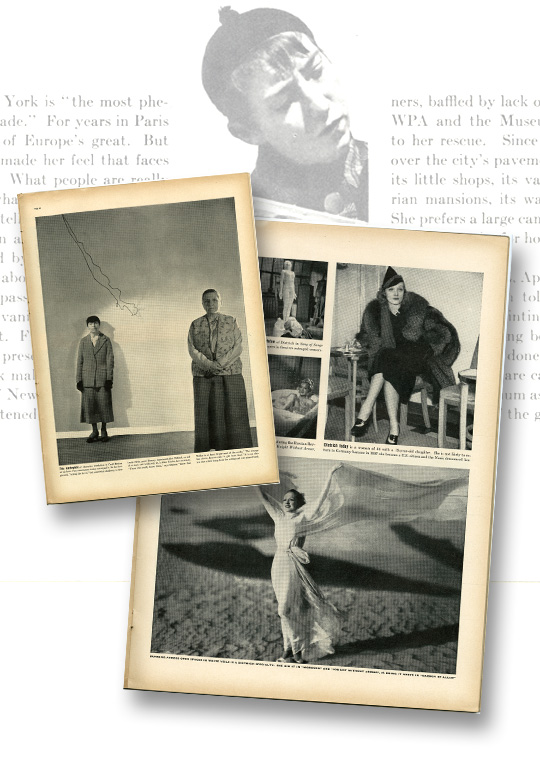 Life Magazine's January 1938 issue is peppered with advertisements aimed at middle-class readers. Some examples include Standard Sanitary Manufacturing Company ("plumbing is a public trust"), Electric Tuning RCA Victor Radio ("so simple, a baby can tune it"), Camel Cigarettes ("do expert marksmen find that Camel's costlier tobaccos make a difference?" — and of course, the answer is yes, because "Camel pays millions more for COSTLIER TOBACCOS! Camels are a matchless blend of finer, MORE EXPENSIVE TOBACCOS — Turkish and Domestic").
Other notable elements of this issue of Life are an essay on Mormonism, a greeting on the inside cover that reads "To 800,000 subscribers, 1,000,000 newsstand buyers, and 14,400,000 other readers of this issue — LIFE wishes A HAPPY NEW YEAR," and an article, with photos, called "The Nightgown Now Goes Out in Public as an Evening Dress."
This copy of Life will be helpful to students and scholars at the MLC who will be able to visually and physically explore the pages — and the lives represented in the pages — of Life in early 1938.