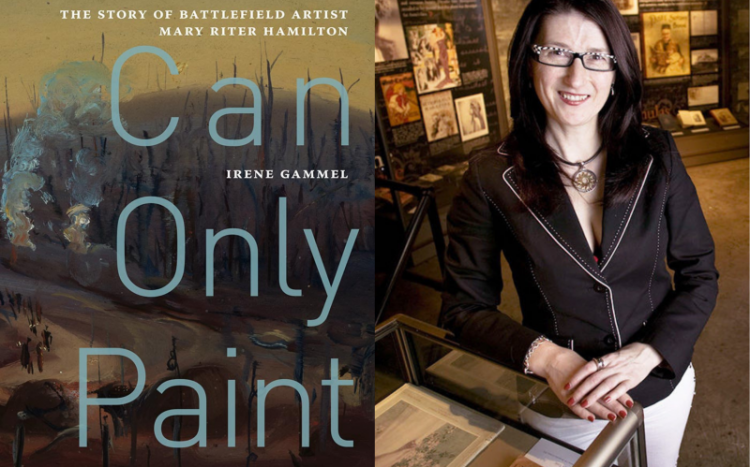 September 22, 2022
TORONTO, ON—The Modern Literature and Culture (MLC) Research Centre is pleased to share the news that Professor Irene Gammel is the recipient of the C.P. Stacey Award for her book, I Can Only Paint: The Story of Battlefield Artist Mary Riter Hamilton published by McGill–Queen's University Press in December 2020.
"On behalf of Toronto Metropolitan University, I congratulate Professor Irene Gammel on receiving the prestigious C.P. Stacey Award, an important recognition of her scholarship," said Steven N. Liss, Vice-President, Research and Innovation. "Professor Gammel is at the forefront of the study and preservation of women's place in Canadian history. Through her wonderfully innovative work, she continues to build awareness of the often forgotten cultural and societal contributions of underrepresented artists such as the extraordinary Mary Riter Hamilton."
Presented by the Laurier Centre for the Study of Canada, the C.P. Stacey Award is named in honour of Charles Perry Stacey, historical officer to the Canadian Army during the Second World War. The prize is presented annually to the best book in the field of Canadian military history. Since its first inception in 1988, this award has recognized 28 of Canada's leading historians and public intellectuals.
The award committee notes: "With this definitive study of Mary Riter Hamilton, Gammel has exhaustively combed global and local archives to reconstruct the difficult, complex life experiences of her subject. After retracing Hamilton's travels and the landscapes the artist visited, Gammel writes so expressively and with such gifted prose that her readers easily imagine the challenging circumstances Hamilton confronted in a Europe devastated by war."
I Can Only Paint is based on intensive archival research in Canada, France, and Belgium. Using many previously unpublished letters, the book offers an insider's view of the artist's vast, underexplored body of war work and the conditions in which she created it. Gammel argues that Hamilton's work encoded a feminist and empathic perspective that distinguishes her paintings from the work of official Canadian war artists. Australian art historian Catherine Speck observes that "Hamilton's life was defined post-war by her decision to go to France to honour in paint the sacrifices made by her fellow Canadians; what has been little appreciated to date is the trauma she suffered in working there. A very big vote of thanks to Irene Gammel for piecing together Hamilton's journey."
Following the steps of the artist's expedition was also a personal journey. As Gammel notes, "the book recuperates a woman artist who deserves our admiration because she challenged social norms with her inclusive vision for Canada disrupting the status quo." Gammel hopes that the story of Mary Riter Hamilton can inspire new generations of students, artists, and educators. "I feel tremendously humbled to receive the C.P. Stacey Award," says Gammel.
"I am delighted to congratulate Professor Gammel on receiving this prestigious and well-deserved award," said Pamela Sugiman, Dean of Arts. "Professor Gammel has creatively and beautifully added new voices and perspectives on the First World War and in doing so, has carefully enriched and broadened our understanding of the canon of war art in Canada. As a highly collaborative researcher and mentor, Professor Gammel engages numerous graduate students in the Modern Literature and Culture Research Centre. The C.P. Stacey Award recognizes her academic excellence in and contributions to a field still largely dominated by men, reinforcing the value of her efforts and impact."
---
About the Modern Literature and Culture Research Centre: Founded in 2006, the Modern Literature and Culture (MLC) Research Centre is a leading art- and humanities-based institution in Canada with a mandate to advocate for positive cultural outcomes and promote Canadian cultural legacy through international outreach. The Centre's main research focus is on modern art, literature, and media, as well as themes of upheaval and reconstruction with a most recent focus on Telling COVID-19 Stories.
Professor Irene Gammel is Executive Director of the Modern Literature and Culture Research Centre. A leading intellectual force in modern literature and culture, she is the author and editor of 15 books. She held the first Tier I Canada Research Chair in the humanities at the Toronto Metropolitan University (2005-2018). In 2009, she was inducted as a Fellow of Royal Society of Canada in recognition of her long-term advocacy for women's cultural legacy in Canada.