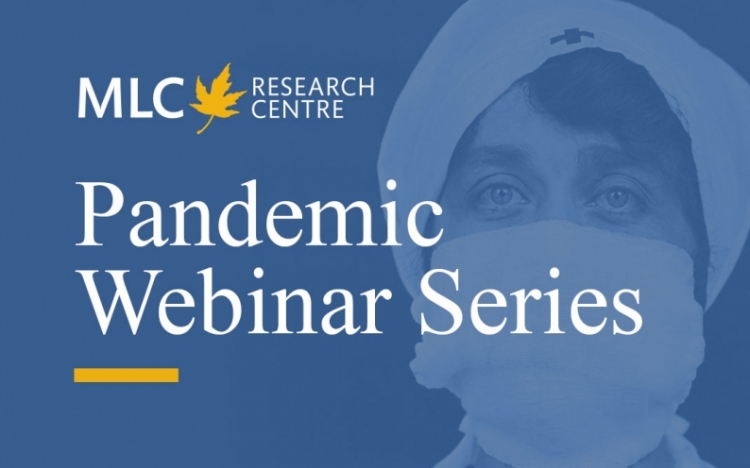 As the world slows down in the wake of COVID-19, with lockdown regulations in many countries around the world, and as death tolls rise, our new reality can feel complex and uncertain. In response to the pandemic, my team and I decided to provide a forum for discussion and connection. This webinar series seeks to explore the social, cultural, and creative dimensions of our current health crisis through arts, humanities, and social sciences research. We offer a platform to discuss the impact of COVID-19 on our daily lives, and how to cope with the pandemic. The webinar engages scholars, students, and the general public, while also creating social connections which may help us during times of stress, unpredictability, and isolation.
The webinars are moderated by MLC Director Irene Gammel and Jason Wang, MLC Executive member with technical assistance by Priyana Govindarajah and administrative support by Cameron MacDonald.
---
Select Participant Feedback

I know it's going to be a rich hour when it's an MLC program/discussion.
- Marisa Coutts, Harvard University alum

The webinar [# 6 on art, performance, and humour] was incredibly interesting! I especially enjoyed the personal anecdotes about transformational art: it's not often you get to hear stories like that. Thank you for organising it.
- Natalie Emma Ilsley, Doctoral Researcher in Cultural Studies at the University of Manchester

Congratulations on the webinars. They are quite popular in LLC. Even when unable to join live many members stream the videos in their own time — great feature.
- Kinga Zawada, Chair of Languages, Literatures and Culture (LLC), Ryerson

Many thanks for another vital and inspiring seminar. This series is a master class in its form.
- Dr. John Wrighton, The University of Brighton, UK

"The ideas raised were thought-provoking and deeply stimulating. It was a great pleasure to find myself part of a community wanting to 'think through' this time we find ourselves in."
- Gail Vanstone, Associate Professor, Department of Humanities, York University

"Three outstanding presentations followed by lively discussion."
- Gerd Hauck, Professor, Department of Languages, Literatures and Cultures, Ryerson University

"It was a great experience and a very warm (and much-needed) human interaction."
- Cristina Robu, PhD Candidate, French/Francophone Studies, Indiana University
For further details and to RSVP to future webinars, please e-mail adminmlc@ryerson.ca.
---