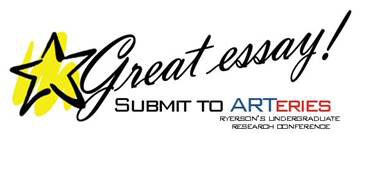 Many of you have heard about and/or attended the Arteries Annual Undergraduate Research Conference. This year will be the 6th edition of the conference and the student organizing committee would like you to submit your papers.
What is Arteries?
Arteries 2013 is Ryerson's Sixth Annual Undergraduate Research Conference, organized by students and sponsored by the Faculty of Arts. This student-organized conference promotes excellence in academic research at the undergraduate level by giving students an opportunity to participate in an academic research conference that takes place at our very own university.
Why is it great for you?
The conference provides a unique opportunity to develop your public speaking and presentation skills, promote your own research, and enhance your resume or CV for professional advancement!
Save the Dates:
Final date and time to submit entries:

Friday, January 18th, 2013, 11:59pm

.
The sixth ARTeries conference takes place:

Friday, March 22nd, 2013 at the Oakham House
For further information, questions, and to find out how to get involved please visit:
arteries2013.wordpress.com
or contact
arteries@arts.ryerson.ca