DATE: April 5, 2010, Toronto By: Dr. Irene Gammel
Theodor Adorno asserted that modernity is a qualitative entity rather than a chronological one and that was perhaps the guiding idea for our Modernity Unbound: Inaugural Literatures of Modernity Symposium, March 29, which brought together 35 presenters and artists and over 120 visitors from Ontario, Québec, and New York. Scott Duchesne (University of Guelph) discussed theosophy and the occult as a way of laying bare the crisis of modernity, while Melba Cuddy Keane (University of Toronto) located Canada's modernity in its internationalism between the two wars. The Blues player is the figure of modernity, argued Joshua Schuster (University of Western Ontario), and he also noted that Modernism missed the opportunity to understand nature or to embrace ecology. Modernity relies on myths of deferral, argued keynote speaker Garry Leonard, by pointing to progress, efficiency, perfection, satisfaction and innovation. "Modernity is never here," he concluded: "It's never now." Ed Slopek and Elaine Brodie (Ryerson University) focussed on neurasthenia as the quintessential experience of modernity, and critically probed the narcissim and lack of empathy for others that results from the pseudo-interactivity of New Media. The symposium was organized by 11 students in my LM8912: Modernity as a Public Event course. The students had worked hard for three months and the organization was impeccable. Congratulations to all.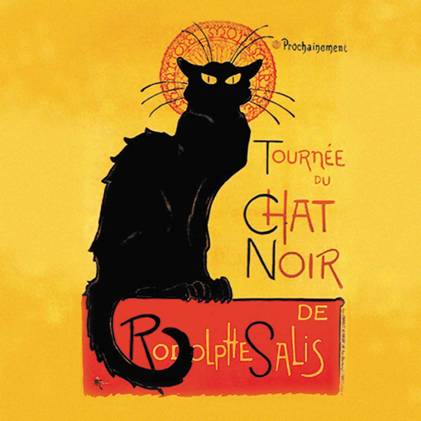 Derek Fisher welcomes the audience
Photo by Lainna El Jabi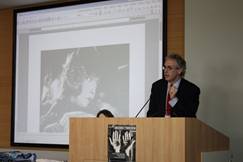 Keynote speaker Dr. Garry Leonard (U of Toronto)
Photo by Lainna El Jabi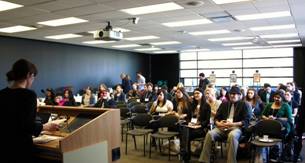 Jillian Harkness addresses the audience
​Photo by Lainna El Jabi
Click to view the photo gallery of the symposium
Click here more photographs taken by Lainna El Jabi.