The other day I received this letter from a former Communications and Culture graduate student, Dayna Jones, who is reporting on how some of the skills learned in the Modernist Salons Graduate course have benefited them. She is also reporting on a really neat venture that she and a follow student have embarked on. Read her letter below and find out. — Irene Gammel.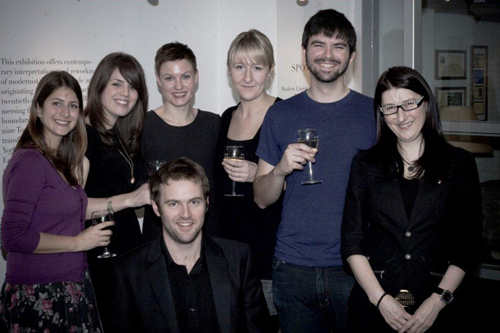 From left to right:
Laura Shaw, Dayna Jones, David Kerr, Nicola Waugh, Dana Svistovich, Daniel Joseph, Irene Gammel
Hello Irene!


I hope this finds you well and happy over at The MLC. It's been a couple of years since Laura Shaw and I were in the salon with you, and we thought it might be a good idea to let you know what we've been up to lately since it has so much to do with the time we all spent together.

After we graduated in the spring of 2011, Laura and I began developing a project called The Ladies' Rhythm and Movement Club (The LRMC). We define The LRMC as a women's knowledge bartering collective, meaning we facilitate trades in skills and expertise between young women in Toronto.

We started with the simple idea that if I teach you something that I can do very well, you'll teach me something, and we're even — no cash involved. But our community has grown so much over the last year and a half that we now offer a sort of radical school; we hold a free monthly workshop series led by women on any topic in their area of expertise, as well as online magazine with contributors from around the country. We've proudly hosted workshops by doctors, bicycle mechanics, cooks, make-up artists, and photographers to name a few, and our community seems only to be growing larger and more dynamic every day.

In creating The LRMC, we're attempting to advance a feminist agenda of social inclusivity and community building. We found that although we have so many educated, interesting, and political young women around us, we don't really have a common expression of feminist politics that we all understand. By creating a space for young women to come together to learn from each other, act as experts and leaders, share stories, and forge new relationships, we hope to foster dialogue about why such a group should be so popular, or necessary, in the first place.

We think of you (and The Baroness Elsa) often as we plan our events, publish our magazine, apply for awards and funding — and sometimes win! We have so much to thank you for, and we hope the salon class still runs so future ComCult students will have the same opportunities we did to learn from you.

If you'd like to know more, you can visit our website: http://www.thelrmc.com/
We're also listed as one of The Centre for Social Innovation's Agents of Change for 2012/13: http://socialinnovation.ca/innovation/aoc2012

Thank you again. Let's be in touch.
All the best,
Dayna M. Jone
I am pleased to confirm that Modernist Literary Circles: A Cultural Approach will be offered again in the Winter 2013. For more information, click here.