An Interview with Baroness Elsa
by Monica de la Torre
Bomb Magazine winter 2012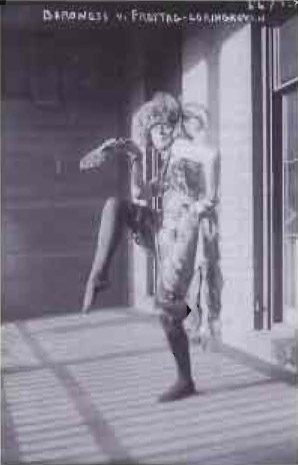 BODY SWEATS: THE UNCENSORED WRITINGS OF ELSA BARONESS VON FREYTAG·LORINGHOVEN edited by Irene Gammel and Suzanne Zelazo
MIT Press, 2011
MT Baroness, you brought your poems to life in performance. You were the "only one living anywhere who dresse[d] dada, love[d] dada, live[d] dada," quoting Jane Heap, coeditor of The Little Review. Sadly, there are no recordings of your performance poems. Give us a hint of one. EVFL "Merdelamerdelamerdelamerdela­ merdelamer... II de I'a A merique!"
MT You wrote sound poetry too. EVFL "Thy living word tolls soundunspelled -"

MT You captured the sounds of your adopted New York. How was it different from your native Germany? EVFL "Ready­ to-wear - / American soul poetry."

MT An example please? EVFL "After every meal - no boiling / Required - keeps the / Doctor a day - / Just Musterole / Dear Mary - the mint with / The hole - oh Lifebuoy!"

MT Your American editors call this "subvertising." You wrote in German too. EVFL "I hate hate / Hate something / About German / Sound - words / That 'longoutdrawnness -'"

MT People were outraged at your art's obscenity. EVFL "If I can write - talk - about dinner - pleasure of my palate [ ... ] with my ease of manner - can afford also to mention my ecstasies in toilet room!"

MT As a Dadaist, wasn't it your inten­tion to make anti-art? EVFL "Art never insults life! loves - caresses every form - shape."

MT But you have to admit that your voracious, polymorphous sexual appetite was pretty scandalous. EVFL "Madam-I firmly stand that ground / Coitus is paramount / Ab-so-Iu-te-Iy!"

MT How does it relate to poetics? EVFL "As poetry - coitus urges / Driven courses rhythmic surges / Energy - / Executive ability."

MT Did your peers share this sentiment? EVFL "Psh! Any sissypoet has sufficient freezing / Chemicals in his Freudian icechest to snuff all / Cocki­ness."

MT Heap argued that madness was your "chosen state of conscious­ness." Others thought your neurasthenia was out of control. EVFL "Is it not wonderful to be able to control that then, that emotion, which otherwise would throttle you?-but take it by the neck and make Art out of it? and be free?"

MT Your friend Djuna Barnes wrote that death came to you in Paris, in 1927, "by gas, a stupid joke that had not even the decency of maliciousness." And in his autobiography William Carlos Williams mentions the rumor that you were "playfully killed by some French jokester" while asleep. EVFL W.C.? Please! "Did not he lynch Art? / Pitiful!"

MT Sorry, but didn't you meet him after your arrest for stealing an umbrella? I'm curious about you and Duchamp also. EVFL "I loved Marcel Dushit / He behaved mulish - / (A quit.)"

MT We'll leave that for next time. In your desperate 1927 letter to Peggy Guggen­heim you said: '''Hope is bloodmoney: Account overdrawn. I had no balance." Suicide ran in your family. Was it a joke? EVFL "Death / Is / 'A good one' / On I Life // And // Altogether - - -"

-MONICA DE LA TORRE is BOMB's senior editor.
Download the review in PDF form