Prof's renewed Canada Research Chair funding goes long way in preserving women's cultural heritage
By Antoinette Mercurio
March 14, 2012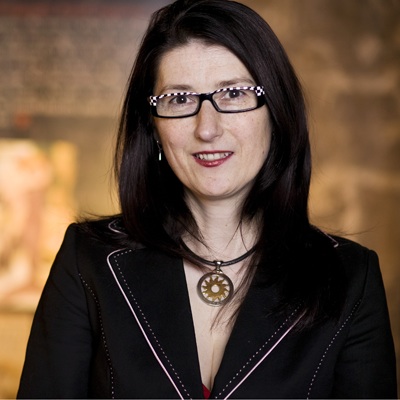 Tier 1 Canada Research Chair in Modern Literature and Culture Irene Gammel has been awarded renewed funding for $1.4 million over seven years to further advance her research on women's avant-garde literature and art in the modernist era.
English professor Irene Gammel has made it her life's work to document and theorize women's literary and artistic contributions to the modernist and post-modern world.
Gammel, a Tier 1 Canada Research Chair (CRC) in Modern Literature and Culture, was recently awarded renewed funding for $1.4 million over seven years. Gammel's research explores the relationship between women's avant-garde art and popular cultures, and contributes to an understanding of women's cultural production in the modernist era. In addition to the CRC funding, Gammel also received a $339,000 grant from the Canadian Foundation for Innovation (CFI) including matching funds from other agencies.
The CRC program invests $300 million annually to attract and retain some of the world's most accomplished and promising researchers.
"Ryerson University is an active and enthusiastic participant in the Canada Research Chairs program," said Wendy Cukier, vice-president, research and innovation. "Our Canada Research Chairs advance knowledge and help build Ryerson's reputation nationally and internationally. Ryerson University is thrilled to have Dr. Gammel's Canada Research Chair in Modern Literature and Culture renewed. Irene is an exceptionally productive scholar and her work is recognized internationally. Her research centre uses innovative approaches to using new technologies in her exploration of modernity. She also has a unique approach to teaching and mentoring which has a lasting impact."
Gammel's recent research on Baroness Elsa von Freytag-Loringhoven (1874-1927), a German-born artist and poet, led to her co-editing a book of collected poems written by the Baroness. Body Sweats: the Uncensored Writings of Elsa von Freytag-Loringhovenwas co-edited by former Ryerson postdoctoral fellow Suzanne Zelazo and made the New York Times' list of notable art books. The Baroness was considered the mother of Dada, a cultural movement of the early 20th century that was characterized by irreverence.
Gammel's new research focuses on the literature and culture of the First World War exploring the ways in which women responded to the war. One specific project highlights the work of Canadian artist Mary Riter Hamilton who painted haunting pictures of the French and Belgium battlefields where Canadian soldiers had fought.
"It's exciting to receive renewed funding for my research program as this support allows me to push forward a cutting-edge research agenda in modern literature and culture, as well as in digital archiving and digital culture," Gammel said. "Thus the research helps me preserve women's literary and cultural heritage. This funding also allows me to support the highest level training of students, interns, and postdoctoral fellows."
Gammel is one of 11 CRCs at Ryerson. Her internationally recognized research is forging connections among print, performance, and visual culture. Her establishment of the Modern Literature and Culture Research Centre (MLCRC) in 2006 is positioning Ryerson at the interface of technology, communication, and mediated artistic experience. The research being conducted there is helping to train the next generation of scholars and, at the same time, is supporting the publication of several books and rare archival materials. Her CFI grant will allow her to add new digital components to the MLCRC and also make available state-of-the art equipment for her research team.
​Read the original article on Ryerson News & Events