As a requirement of her ACS 800: Research Practicum in ACS, Megan Stulberg conducted research on Ernest Hemingway. Here is her blog on an interesting aspect of Hemingway scholarship she discovered at the MLC Research Centre. It also reflects her own interest as a food blogger.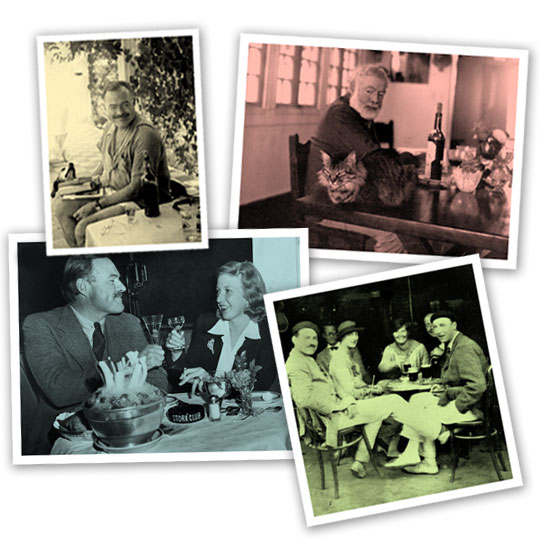 We ate well and cheaply and drank well and cheaply and slept well and warm and loved each other.
Ernest Hemingway, A Moveable Feast (1964)
Valerie Hemingway, the one-time wife of Hemingway's son Gregory, writes about her famous father-in-law's love of food in an article entitled "At Hemingway's Table: Food for the Five Senses," which appears in The Hemingway Review (2013). Recalling the most memorable meals she shared with the writer during the late 1950s and early 1960s, she notes: "It is not an exaggeration to say that Hemingway perfected the art of eating and drinking in the same way he perfected the art of writing and in his works we encounter many fine and some humble meals and a prodigious quantity of drinking." She recalls that he always enjoyed his food, ate slowly and took pleasure in dining at a table, making each meal an event. Hemingway's love for food in his personal life seeped into his writing, shaping the characters and narration.
Thus it comes as no surprise that Hemingway's writing has offered plenty of food for thought within a new field of study: culinary theory, a branch of cultural studies dedicated to analyzing the representations of the preparation, presentation and consumption of food in literature, art, and film.
Exploring Hemingway's role as an urban diner in A Moveable Feast, Nicole Stamant (Agnes Scott College, Georgia) argues that many of Hemingway's retellings incorporate "food and hunger, and the memories of food and hunger." Such memories, as Stamant asserts, "reinforce and characterize his relationship to others." Likewise, Hilary Justice Kovar (Illinois State University), analyzes Hemingway's use of food semiotically, arguing that Hemingway "build[s] towards his understanding of gastronomy, agronomy, and hospitality as fundamental to human civilization."
At the University of Lethbridge, Alberta, English professor Neil Stubbs examines the intersections of food and gender in America, using Hemingway's work to explore how the culinary world influences male autonomy. In Hemingway's short story collection In Our Time (1925), roadside diners are featured prominently, and the simple dining experience of road food serves as its own language — the authentic voice of the American masculine experience. Hemingway's rhetorical and ritualistic use of food preparation in both coming-of-age stories and personal memoir help to recall specific places and times through food and drink.
"For two people to share breakfast means waking up with the same desire to break the fast imposed by the night," Nicole Camastra writes about A Farewell to Arms. "Having breakfast in bed, in particular, means transgressing the boundary between the things of the night and the things of the day Frederic had kept strictly in place before falling in love with Catherine. It breaches the tension between love and lust established early in the novel against the backdrop of food and drink."
Far from being a quirky aspect of the iconic writer, food is centrally relevant to Hemingway's work. It offers a realm for future research in order to understand literature's role in the ever-growing culinary culture.
Megan Stulberg
ACS 800 Practicum Student
Bibliography
Camasta, Nicole. "'I Was Made to Eat': Food and Brillat-Savarin's Genesiac Sense in A Farewell to Arms." The Hemingway Review 33.1. (Fall 2013): 86-92. http://bit.ly/NonXyh
Hemingway, Ernest. A Moveable Feast. 1964. New York: Touchstone, 1996.
Hemingway, Valerie. "At Hemingway's Table: Food for the Five Senses." The Hemingway Review 33.1 (Fall 2013): 93-99. http://bit.ly/1cTvykH
Kovar, Hilary Justice. "The Consolation of Critique: Food, Culture and Civilization in Ernest Hemingway." The Hemingway Review 32.1 (Fall 2012): 16-38. http://bit.ly/1g1oNbE
Stamant, Nicole. "Hemingway's Hospitality in A Moveable Feast." The Hemingway Review 33. (Fall 2013): 73-79. http://bit.ly/NucsX9
Stubbs, Neil. " 'Watch Out How That Egg Runs': Hemingway and the Rhetoric of American Road Food." The Hemingway Review 33.1 (Fall 2013): 79-85. http://bit.ly/1grOkdN