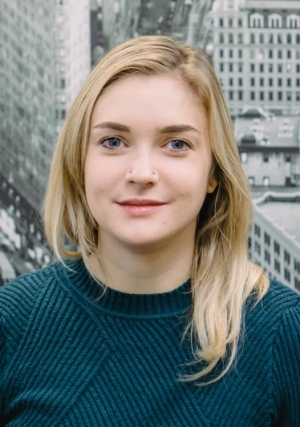 Aurelia Wilson (ABD) is a doctoral student in the joint Toronto Metropolitan University and York University Communication and Culture program (2020-2024). Supervised by Dr. Irene Gammel, her doctoral research focuses on a participatory model of digital media industries, exploring internet pornography platforms that rely primarily on user-generated content. Aurelia is a teaching assistant in Philosophy and Media Studies. She completed her M.A. in Philosophy at Wilfrid Laurier University and her B.A. in Philosophy at Nipissing University. She has her office at the MLC Research Centre at 415 Yonge, 18th Floor, Room 1802B.
Doctoral Dissertation
Wilson, Aurelia. "Interfacing Digital Media and Pornography: A Critical Ethnography of Sexualized Labour." Toronto Metropolitan University and York University Communication and Culture Program, 2022-2024. Supervisor Dr. Irene Gammel.
Abstract
Aurelia Wilson's dissertation explores the experiences of participants acting within the user-generated model of media consumption and production used by the pornography platforms OnlyFans. On this site, and others like it, content creators supply explicit sexual material for the pleasure and entertainment of consumers. By interviewing consumers and content creators on OnlyFans, Wilson's doctoral dissertation explores the participatory model of digital content creation within the context of sex media. The goal is to identify areas of both exploitation and agency found within this media model, exploring the rights and ethics ultimately to make recommendations ensuring the mental and physical well-being of participants.