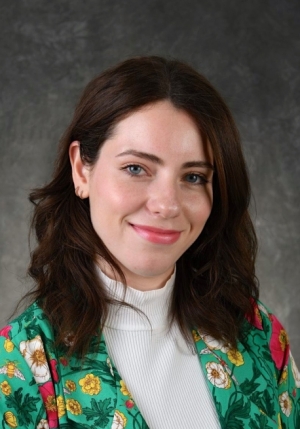 A doctoral student (ABD) in the joint Ryerson University and York University Communication and Culture program (2018-2022), Jaclyn Marcus has had a love for fashion and literature since starting her BA (Honors) in English Literature and Language at Queen's University (2011-2015) and completing her MA in Fashion at Ryerson University (2018). Her doctoral work is focussed on the intersection of fashion, literature, and digital reconstruction through 3D printing, funded by the Social Sciences and Humanities Research Council of Canada and supervised by Dr. Irene Gammel. In addition, Jaclyn is the managing editor at the Fashion Studies Journal, co-edited by Dr. Ben Barry and Dr. Alison Matthews David. At the MLC, Jaclyn has been involved as a lead for the Modernism Studies Association Conference in 2019.
Doctoral Research Proposal
Marcus, Jaclyn. "Sartorial Narratives: Digitally Reconstructing Fictional Fashion Objects." Ryerson University and York University Communication and Culture program. Funded by SSHRC.
Abstract: My doctoral dissertation stems from my interest in exploring fashion, youth literature, and digital practice. Contributing to an emerging scholarly field, my dissertation proposes to reconstruct fictional fashion objects in selected youth literature. This process involves a study of the textual garment and of comparable real-world garments from the era to enable digital modelling, with the application of software such as Unity, a 3D development platform, virtual reality tool Unreal Engine, and Fusion360 CAD/CAM design software, among others. This new technology also raises new research questions, namely, how can digitally refashioning the fictional fashion object grant insight into these texts, their authors, and the historical period in which they were written? How do we unpack the dynamic relationship between the sartorial narrative, dress, and the digital reconstruction?
Scholarly Articles
Marcus, Jaclyn. "Lady Fair Invisible: The Hair Pin as Underexplored Fashion Accessory and Artifact." Marginalized Style: Studying Fashion from Below, Lexington Books, forthcoming. 9,040 words, 7 illustrations.
Marcus, Jaclyn. "'I thought of my lovely puffed sleeves and took courage': Transformative Dress in L.M. Montgomery's Anne of Green Gables (1908)." The Journal of Dress History, forthcoming. 7,730 words, 5 illustrations.
Marcus, Jaclyn. "Wonder Woman's Costume as a Site for Feminist Debate." Fashion Cultures and Media – Canadian Perspectives, special issue of Imaginations: Journal of Cross-Cultural Image Studies, vol. 9, no. 2, 2018, pp. 55‑65.