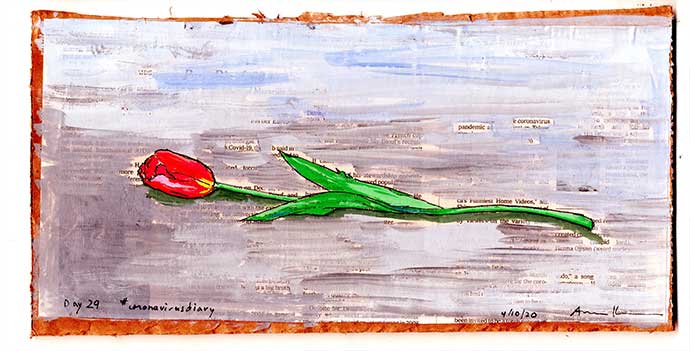 Amitava Kumar, Coronavirusdiary Day 29, 10 April 2020, drawing.
Courtesy of the artist.
Where: Toronto Metropolitan University
Instructor: Dr. Irene Gammel
Contact: gammel@ryerson.ca
---
Course Description
The COVID-19 pandemic has changed how we look at infectious disease and social disruption in literature, communication, and culture, forcing us to acknowledge our vulnerability and resilience. How has the pandemic shaped literary, visual, and media narratives? To what extent can imaginative acts provide personal and communal guidance? This course provides graduate students with an opportunity to reflect on the ways in which we cope with the pandemic imaginatively and creatively, revealing how illness shapes narratives, selves, and social relationships. In a discussion-based seminar, students consider literary writings, life writing, visual art, comics, and social theories, alongside themes and theories of the everyday and COVID-19. The course involves research and research creation culminating in a symposium that allows students to test their ideas publicly. This Zoom-mediated course also includes guest lectures and networking opportunities with international scholars.
Pandemic Debriefs: A Communication and Culture Symposium on COVID-19