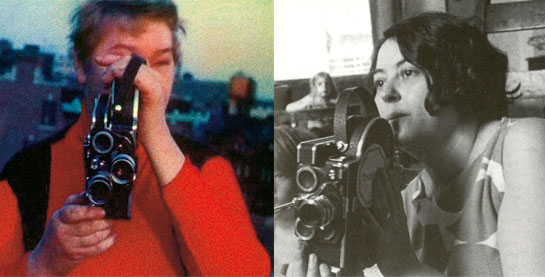 Women Making Vanguard Films features work produced by women filmmakers of the modernist avant-garde cinema movement, from the early 1940s to the late 1960s. The film series, which involves 16mm film screenings, includes work by Maya Deren, Marie Menken, and Joyce Wieland.
The Mother of Us All: The Films of Maya Deren (1917—1961)
7.00 - 9.00pm
Russian-born Maya Deren and her co-director Alexander Hammid were the first significant American experimental filmmakers of their time. These films, though often made in collaboration (the unfinished
Witch's Cradle
, for instance, was co-directed with Marcel Duchamp), were the product of a sensibility all her own, a surreal, perceptual cinema in which the sensuality of dance and a nightmarish psychoanalysis coalesced.
The Garden of Eden: The Films of Marie Menken (1910—1970)
Brooklyn-born experimental filmmaker Marie Menken had a background in painting, which influenced her filmmaking. As she explained: "In painting I never liked the staid and static, always looked for what would change the source of light and stance, using glitters, glass beads, luminous paint, so the camera was a natural for me to try." Over her bed hung a sand painting, with a rattlesnake in it, which she titled The Garden of Eden.
Ars Longa, Vita Breva: Joyce Wieland's Reason Over Passion
Wednesday 14 May
7.00 — 9.00pm

From 1963 to 1972, Toronto-born painter, collagist, and mixed media artist Joyce Wieland made experimental films that dealt with perception, sequence, and the aspiration toward flatness in modern art. Much of her work in film, and that of her then-husband Michael Snow, arises from their exposure to Marcel Duchamp, Michel Sanouillet, and the Toronto Neo-Dada movement of the early 1960s. Once Wieland and Snow moved to New York City in 1962, other influences entered her work including minimalism and surrealism.
All screenings take place at:​
MLC Gallery
111 Gerrard Street East,
First Floor

This event is free of charge. All are welcome. For more information, please contact admin@ryerson.ca.

This series is conceived and organized by Stephen Broomer, as part of his tenure as Doctoral Scholar in Residence at the MLC Research Centre, with support by Catherine Russell, MLC Research and Research Administration.
This series is kindly sponsored by the MLC Research Centre through funds made available through the Canada Research Chairs program, which also supports the Centre's Doctoral Scholar in Residency program.