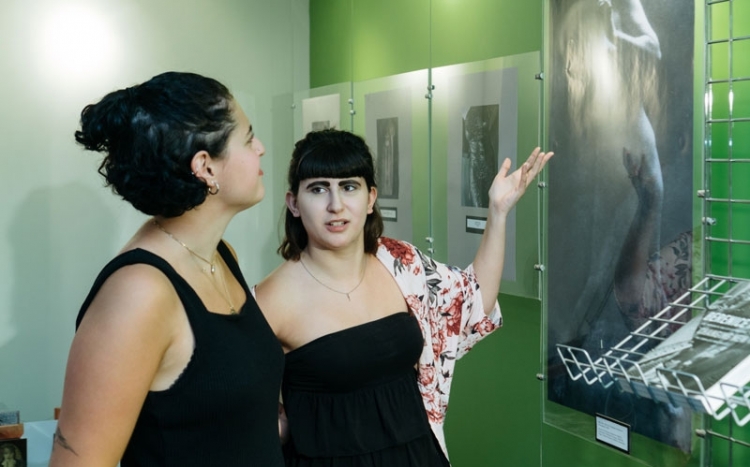 Are you interested in interacting with people, art, music, and new media? Consider becoming involved at the Modern Literature and Culture Research Centre Gallery at Ryerson as a Gallery Tour Guide or Docent.
The Modern Literature and Culture (MLC) Research Centre is seeking caring and dynamic volunteers with an interest in introducing others to art, music, and culture. Volunteering is a great way to learn about art, the gallery space and curation process, and to share your interest and curiosity with others.
What is a docent?
Docents greet visitors and interact with them at the Gallery. They provide tours typically to individual guests and share some of the information provided by the curator. You will be able to interact with like-minded students and visitors and deepen your knowledge of art and music through hands-on engagement within a dynamic exhibition space.
You will also be able to learn about our current exhibition, Domestic Music-Making: From Parlour Music to Digital Sound (September 10 – October 25, 2019) curated by Cintia Cristia and Irene Gammel, which invites reflection on the processes of musicmaking, parlour music, and the themes of motherhood, desire, and frustration within this genre through the lens of new media and drawing. The exhibition features original sheet music and cover imagery from the twentieth century as well as drawings and sound sculptures by Toronto artist Marla Hlady. This is a kinetic, interactive exhibition that will introduce docents to recent developments in the exhibition, art, and music fields.
Volunteers will be invited to attend the exhibition opening event alongside their docent role.
Next steps
If you are interested in this opportunity, please send us a quick expression of interest at admin@mlc.ryerson.ca by September 6th, 2019.
Questions?
Phone: 416-979-5000 ext. 7668.