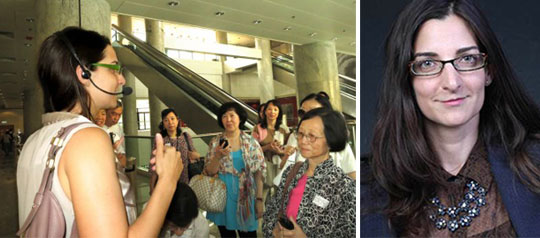 Just a few weeks ago, Dr. Alma Mikulinsky, Visiting Postdoctoral Research Fellow at the MLC Research Centre, received a phone call that changed her life. Following an interview and campus visit, she was offered a coveted tenure-track position as an Assistant Professor of Modern and Contemporary Art History in the History Department at Duquesne University. She is still reeling with excitement.
Duquesne, which is located in the heart of Pittsburgh, has over 10,000 students and boasts innovative graduate programs including Public History, Media Arts and Technology, Women's and Gender Studies. The city is known for its lively art scene, which is a boon to Dr. Mikulinsky.
As she explains: "I look forward to making use of Pittsburgh's excellent art collections in my teaching and collaborating with the city's cultural institutions on curatorial projects." She also hopes to enhance the program's internship program to provide her students with opportunities for work experience in the art world. Teaching art history and developing new courses is a dream come true.
"For many academics, a tenure-track job is a dream, the entrance point into a permanent career as a professor," says Dr. Irene Gammel. "Alma is a terrific scholar and an inspired teacher and Duquesne is lucky to have hired her."
Dr. Mikulinsky, who holds a PhD from the University of Toronto (2011) and was a Research Fellow at the Society of Scholars in the Humanities at the University of Hong Kong prior to joining the MLC Research Centre in September 2013, will also maintain her connections to Toronto and Ryerson. Slated to start her new position in January 2015, she continues to be busy at her MLC desk, hoping to complete her book manuscript "Picasso on Display," along with shepherding a forthcoming chapter on André Breton's Surrealist temporality through the publication process.
Congratulations, Dr. Mikulinsky!
Read more about what our MLC Postdoctoral Alumni are doing:
Dr. John Wrighton, Assistant Professor, English, University of Brighton
Dr. Stephen Voyce, Assistant Professor, English, Iowa University
Dr. Suzanne Zelazo, Managing Editor, Triathlon Magazine, Canada