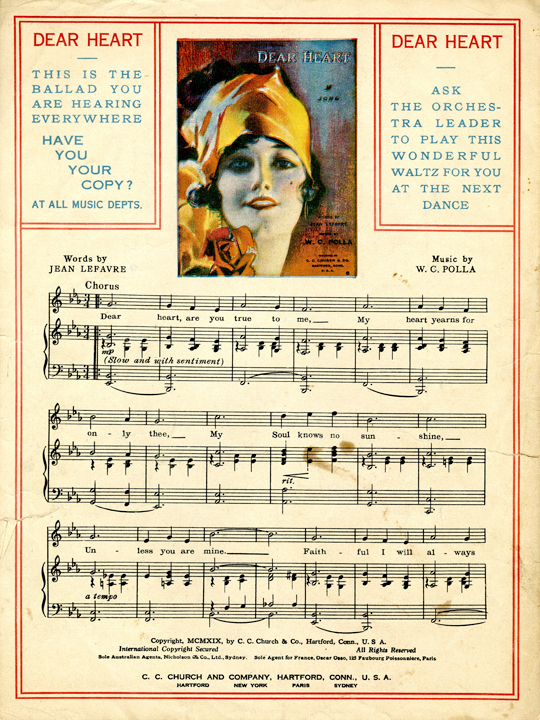 Before radio and television were widely available, people created their own entertainment, which sometimes involved singing songs together, or performing for family and friends. These songs were printed on sheets adorned with color lithography depicting stars and composers, which makes them rare collectors' treasures today. A collection of this early 20th century sheet music, including 43 titles that span 1917 to 1954, was donated to the Modern Literature and Culture Research Centre in February 2013.
The sheet music in this collection includes original lithographs and songs from Vaudeville acts (such as Nora Bayes and Gallagher and Shean), folk songs, songs from film and radio programs, and songs performed by popular recording artists (such as Frank Sinatra, The Four Aces, the Ames Bros, etc). Many pieces are for piano with vocal accompaniment, and many have a ukulele score included.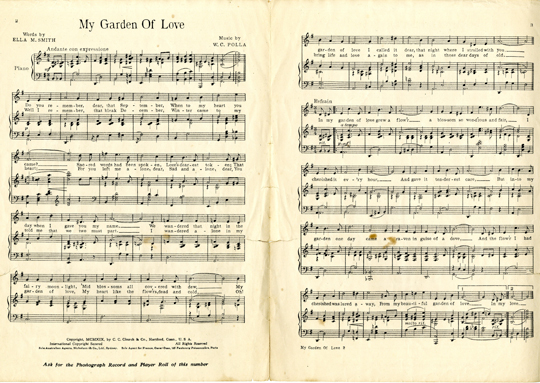 The songs in this collection have themes that range from family to immigration and war, as well as including nonsense songs and love songs, representing popular culture at the time of each publication. Apart from the music, each folio is graced with cover art that is sometimes simple, and sometimes features elaborate caricatures. Many include paintings or photographs, either of the performers, or an image that evokes the mood of the songs. These display hairstyles, clothing, and other ideals of beauty, as well as new technologies such as telephones and microphones.
This collection of vintage sheet much, including songs such as "Dear Heart," "My Yukon Rose," and "Lullaby," was donated to the Centre by Dr. Karen Mulhallen, an MLC Research Associate and a long-time member of the English Department at Ryerson University. Dr. Mulhallen, who has a love of literature, music and performance, is internationally renowned as a scholar and a poet with many books of poetry and criticism; she is also known as a long-time editor of the award-winning literary magazine Descant. Dr. Mulhallen has previously donated the Karen Mulhallen Modernism Collection to the MLC Research Centre.
"Dr. Mulhallen is an outstanding cultural ambassador, and mentor for student scholars, and we count ourselves lucky to have her support at the Centre," says Dr. Gammel, MLC Director. "This latest addition of sheet music is one more example of her generosity and will make a great research topic for a student interested in popular music."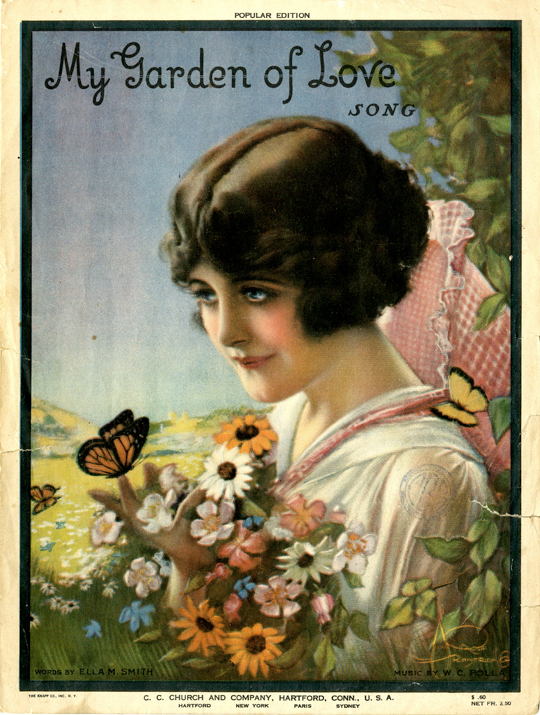 The folios in this collection will be of use to a wide variety of researchers and students interested in topics ranging from music composition, performance, entertainment history, and even history of home-life, thanks to their beautiful covers, fashion and art, and any number of cultural topics. This collection will be an invaluable addition to the MLC archival collection.
Alanna McKnight, MLC Special Collections