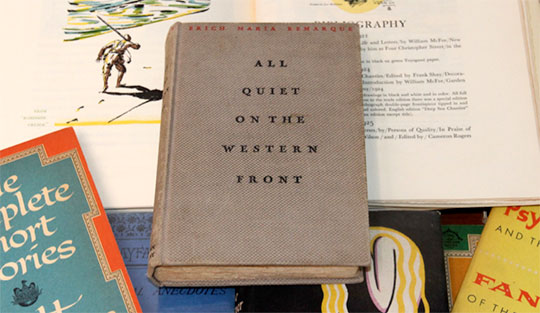 ​
In the year of the centenary of the First World War, Erich Maria Remarque's anti-war novel All Quiet on the Western Front is ripe for a thorough rereading. A first American edition of All Quiet on the Western Front (Im Westen nichts Neues) by Erich Maria Remarque is among the highlights recently donated to the Modern Literature and Culture Research Centre. Published in June of 1929 in Boston by Little, Brown and Company, the hard cover book is in excellent condition, with cloth boards inscribed with black and red letters. Translated from the original German in this edition by A. W. Wheen, All Quiet tells the story of Paul Bäumer and his schoolmates who enthusiastically leave for the trenches of World War One to find themselves in the quagmire of daily life in the trenches. Remarque writes in the preface, "This book is to be neither an accusation nor a confession, and least of all an adventure, for death is not an adventure to this who stand face to face with it. It will simply try to tell of a generation of men who, even though they may have escaped its shells, were destroyed by the war."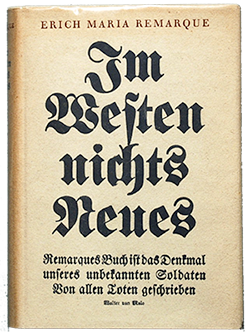 ​
All Quiet was an unprecedented literary success that led to many international editions and a 1930 Oscar-winning film adaptation directed by Lewis Milestone. With the silence surrounding the war broken, an outpour soon followed. Scholar Modris Eksteins describes All Quiet as the trigger that led to a boom of war books, plays and films. Within three months of its publication 640, 000 German copies had been sold, growing to a million by the year's end. French and English translations soon followed, leading to record sales in Britain, the United States and France that also amounted to a million copies by the end of 1929. By the end of its publication year, All Quiet had been translated into twenty languages, including a German braille edition for blind veterans, and Britain's Barrow public library had announced an advance reserve on the book for the next two years. The unprecedented success of All Quiet on the Western Front enabled the wide dissemination of its theme, that war is a "demeaning and wholly destructive force," which leads to what Eksteins calls a "fraternity of death" but also communicated a fraternity of understanding between nations who had escaped the shells of World War One, urging them to part from the silence of their now quiet fronts.
The book was a gift by Dr. Karen Mulhallen, the long-time editor of Descant and an MLC Research Associate. Other highlights of Dr. Karen Mulhallen's recent donation include an 1892 limited edition of Henry James' Daisy Miller and An International Episode, which is vellum-bound and decorated with 101 illustrations; a first edition copy of Edith Wharton's Old New York: New Year's Day (The Seventies) published in 1912; a 1929 edition of Olive Schreiner's Undine with its original wrappings; and the first English language mammal sound book recorded between 1937 and 1938 by Julian Huxley and Ludwig Koch, entitled Animal Language.
Scholars and students alike will greatly benefit from this donation to the MLC. To donate original materials from the modernist era (1880 - 1940), or to conduct a research project on our holdings, please contact me at the MLC at archive@mlc.ryerson.ca.
For the full inventory, click here.
Clara Puton
MLC Archives
archive@mlc.ryerson.ca