Operation Canada, Dr. Irene Gammel's SSHRC-funded research project, explores the diaries of the First World War through the lenses of gender, race, and culture. The project involves researching, locating, and transcribing representative and unpublished diaries from public and private archives in Canada. This five-year study, nearing completion in 2021, has focussed on underexplored minorities including Indigenous and Black soldiers, as well as the role of women war workers, dismantling the gendered binary between the home front and the battlefield. Frontline soldiers' personal writings figure alongside those of non-combatant workers behind the front lines and at home, while writing during the post-Armistice years yield rare insight into the unglamorous and rarely discussed battlefield cleanup and the Spanish Influenza pandemic.
"It has taken us years of intensive research to locate many fascinating personal war diaries," explains Dr. Gammel, the principle investigator for Operation Canada. "My team and I have transcribed selected diaries that we are making available digitally. We want readers to be able to immerse in these personal writings and drawings that reflect upon the turmoil of the era at the war front and at home. Principally, we want to shift the understanding of what we mean by war diary."
Overall, the project aims to achieve an understanding of the war diary beyond the official regimental war diary written by officers, which embodies the official history. By contrast, personal war diaries were often small booklets that soldiers kept hidden, or day-by-day diaries kept by those on the home front to record their own immersion in this cataclysmic experience of upheaval and reconstruction.
Diarists featured in the project include: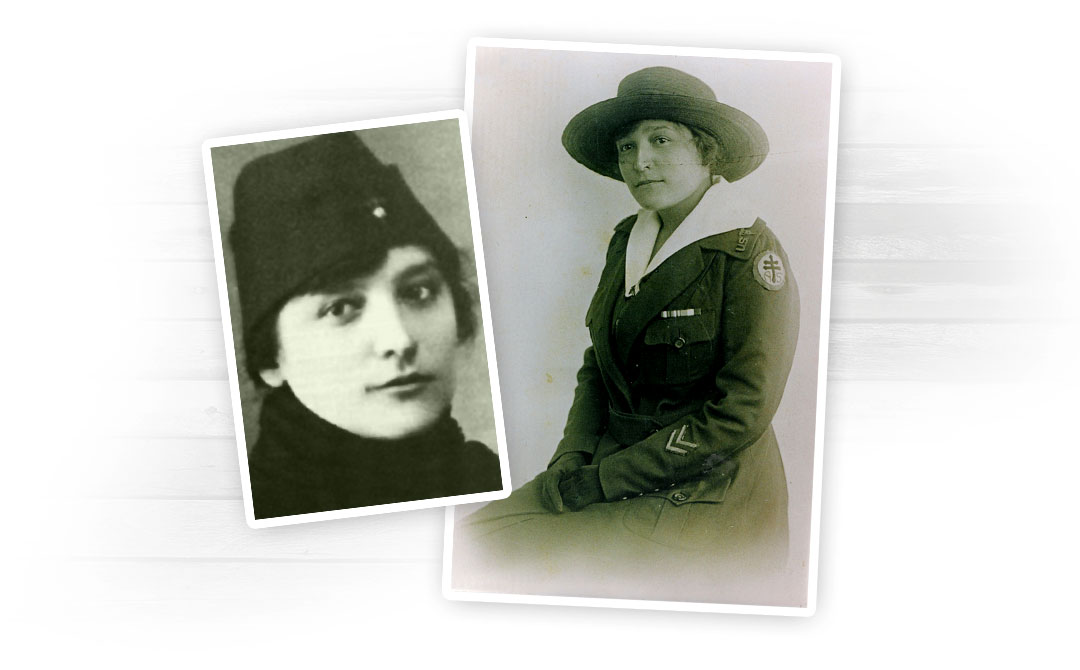 Edith Monture, a Mohawk woman born on the Six Nations Reserve near Brantford, Ontario. Monture was denied the opportunity to become a nurse in Canada because her status as an Indigenous woman excluded her from many programs, leading her to study in New York. In 1917 she enlisted as a nurse in the United States Army Corps, recording her experiences in a diary preserved by her family.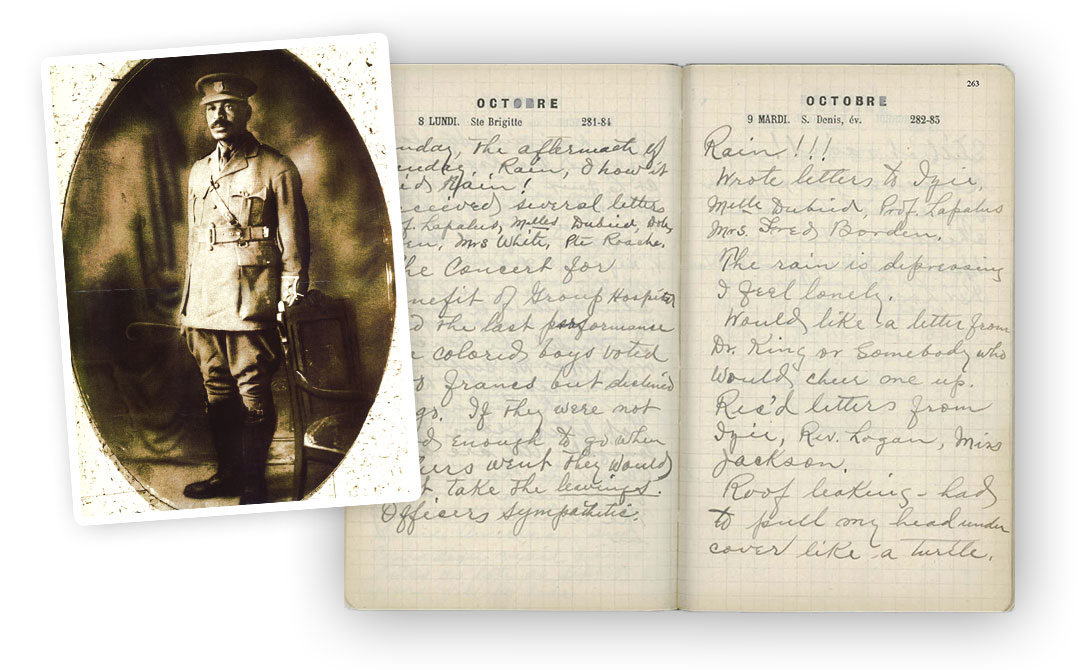 William Andrew White, a Baptist chaplain, whose diary provides insight into the operations of the No. 2 Construction Battalion, an all-black Canadian unit. Even though White's entries are short and terse, they critically reference the racist treatment of the "coloured boys."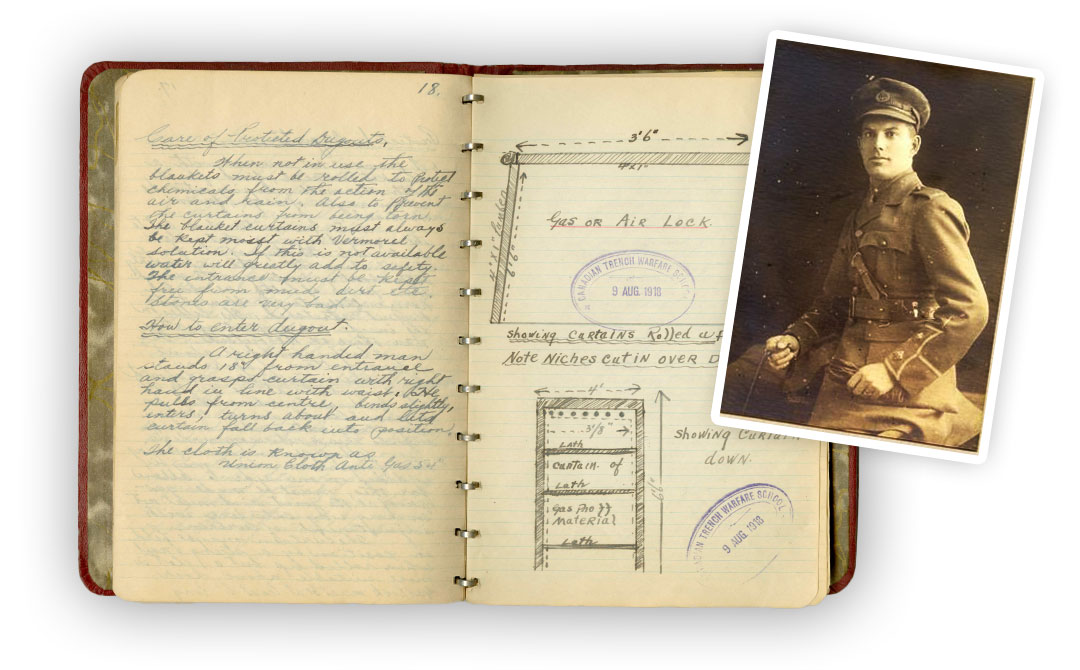 Percy Puley, an officer responsible for training soldiers, handwrote his teaching plans, and his journal provides information for soldiers on various defense protocols and combat methods, such as how to protect oneself against a gas attack and insight on how to attack the enemy with gas: "The best wind for cloud gas is from 3 to 10 M.P.H with a light fog or drizzle and preferably at night or early morning."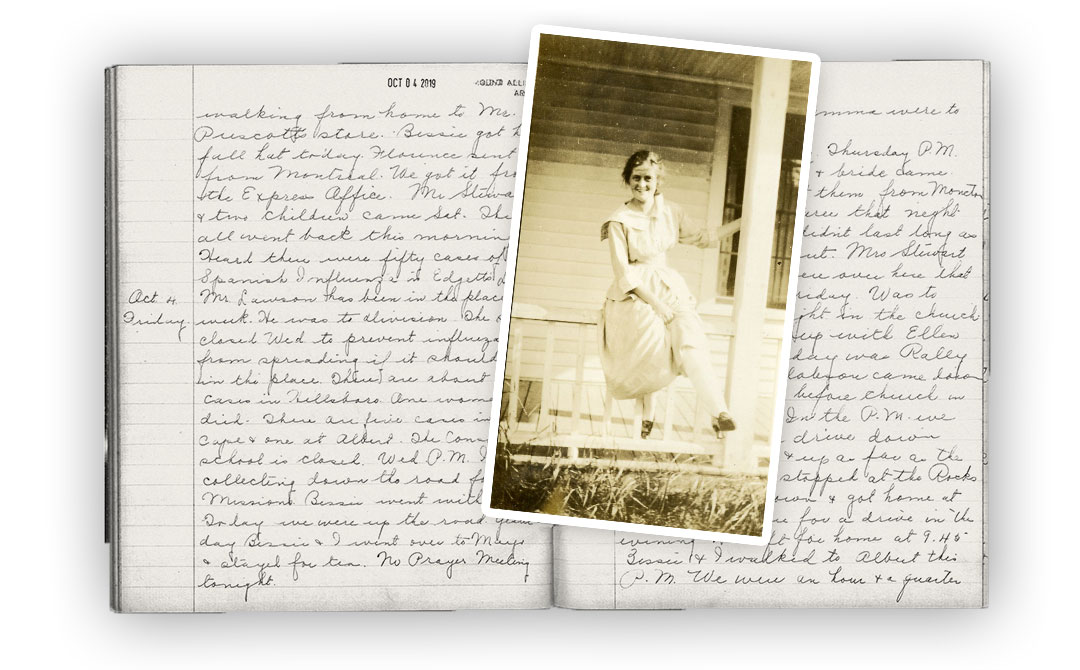 Ella Isobel Rogers, a teenager in the rural community of Hopewell Hill, Alberta County, New Brunswick, details her experience with the Spanish flu. On 4 October 1918, she notes in her diary: "The school closed Wed. to prevent influenza from spreading if it should hit in the place. There are about 25 cases in Hillsboro. One woman died."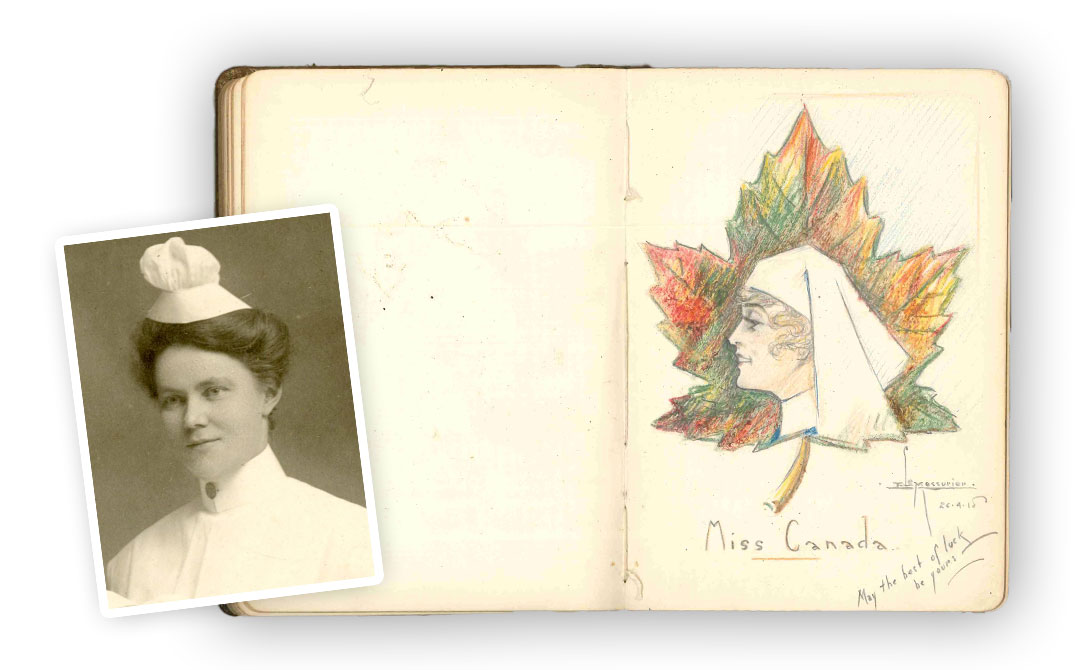 Inga Johnson, who hailed from Manitoba, used crayon, pastel and watercolour to comment on her work as one of the 2,854 Canadian war nurses. She served at No. 1 Canadian General Hospital in Étaples, France, and No. 4 Canadian Casualty Clearing Station, where she was eventually promoted to acting matron.
Ultimately, this project shifts our understanding of a war that touched so many Canadian lives and each year continues to bring thousands of Canadians overseas for visits of the battlefields in France and Flanders.
The Research Team
Dr. Gammel's Operation Canada team includes the following participants: doctoral student Ben Lee Taylor, the Research Assistant Team Lead, who works alongside Philosophy student Hameem Khan, work study students Shany Raitsin, Rebecca Rocillo, and Gabriella Will, doctoral student Julianna Will, and MLC Research Coordinator Cameron MacDonald.
Partners
This project involves Ryerson Library and Archives as partners including Sally Wilson and Fangmin Wang.
Want to Get Involved?
If you are a family member or private collector who wishes to have World War I diaries in your possession considered for this project, please ​contact Irene Gammel via adminmlc@ryerson.ca or via telephone at 416-979-5000 ext 7668.
---

---
Photo credits:
Charlotte Edith Anderson Monture, ca. 1919. Black and white photograph, Courtesy of the Moses Family. Digital scan John Moses 2019.
Charlotte Edith Anderson Monture, ca. 1917. Black and white photograph, Helen Moses. Digital scan Veterans Affairs Canada 2020.
Captain William Andrew White, ca. 1916. Black and white photograph, Anthony Sherwood. Digital scan The Canadian Encyclopedia 2019.
William Andrew White, Diary of William Andrew White, ca. 1917–18. Black ink and pencil on white grid lined paper. Unpublished manuscript, 2 volumes, 802 pp. Library and Archives Canada (LAC), 8–9 Oct. 1917, pp. 262–3. Digital scan LAC 2019.
Lt. Percy M. Puley, ca. 1914–18. Black and white photograph, Princess Patricia's Canadian Light Infantry (PPCLI) Regimental Museum and Archives. Digital scan PPCLI 2019.
Percy M. Puley, Notebook of Percy M. Puley, ca. 1918. Pencil on white lined paper. Unpublished manuscript, 1 volume, 123 pp. Archive of Descendants of Percy M. Puley on loan at MLC Research Centre), pp. 30–1. Digital scan MLC 2019.
Ella Rogers, ca. 1918. Black and white photograph, Mount Allison University Archives. Digital Scan Mount Allison University Archives 2013.
Ella Rogers, Diary of Ella Rogers, ca. 1915–21. Black ink on white paper. Unpublished manuscript, 4 volumes. Mount Allison University Archives, vol. 3, pp. 109–10. Digital scan Mount Allison University Archives 2019.
Inga Johnson, ca. 1907. Black and white photograph, Health Sciences Centre Winnipeg Archives/Museum. Photograph of Winnipeg General Hospital day staff (cropped).
Inga Johnson, Diary, ca. 1917–19. Pencil and pastel or crayon on white paper. Unpublished manuscript, 1 volume, 100p, 18.5 x 13 cm. Canadian War Museum (CWM) Archives, Ottawa, 20160490-001, p. 64. Digital scan CWM 2019.