The Modern Literature and Culture Research Centre is pleased to announce a Modernist Fashion and fine objects donation from Dr. Karen Mulhallen.
The Fashion collection comprises sixteen Modernist garments and accessories, including an early 20th century house dress, a cape with a matching ostrich plume fascinator, as well as handmade silver and golden beaded purses. Of particular interest is a pair of marcacite shoe buckles and silk and bead dress from the 1920s, as well as a kimono from circa 1930. A selection of these dresses were on display at the MLC Open House in September 2013, and the kimono is on display in the window of the street-level MLC Research and Innovation Zone at 111 Gerrard Street East.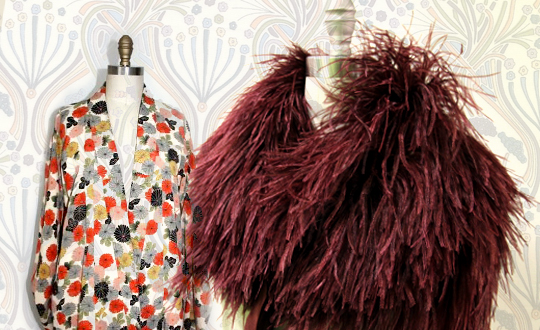 The largest of the three-dimensional items in this donation is an Anton Chotka figure lamp. Chotka (1875-1925) was an Austrian artist who created iconic cold painted bronze sculptures and figure lamps featuring Eastern figures and themes. The donated lamp features scene from a bazaar: a man standing on a cobbled street selling an elaborate and colourful rug, holding it out to the viewer who is invited to inspect it. The whole scene is framed by pillars, and a carpet draped over-top. The light bulb rests below the roof carpet, illuminating the scene. This object demonstrates a flare for Oriental design that flourished at the turn of the 20th century.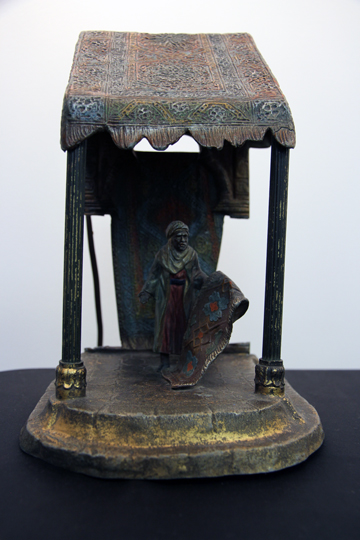 Eighteen ink wells donated date from circa 1910 according to the patent stamp featured on some of them, and were mostly made in England. They are all glass and in excellent condition, some clear, some lightly tinted grey, yellow or pink. Two are cubes with lids that fit over the ink pot; one with a pin-wheel design, the other square with grid-lines. Accompanying these items is an Art Nouveau dip pen decorated with a cluster of flowers a third of the way up the shaft of the pen in the curvilinear design of Art Nouveau.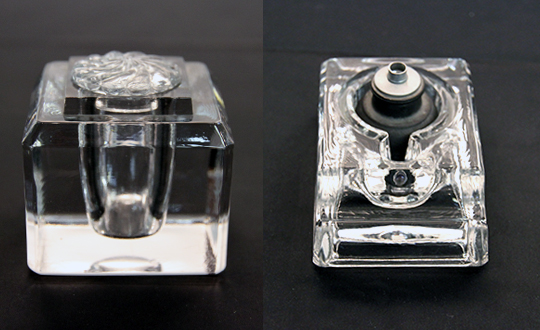 "We are extremely grateful to Dr. Mulhallen for her continued support of our MLC Modernism Collection," says Dr. Irene Gammel, Director of the Modern Literature and Culture Research Centre. "With the help of Dr. Mulhallen's visionary collecting of early twentieth century Fashion and fine art objects, we are able to expand our object-based research at the Centre. This will be invaluable for our scholars and students for years to come."
These items are stored in the MLC Archive, and are available by appointment for research purposes.
Alanna McKnight, MA
MLC, Archival Collections
Click here for a list of Fashion Garments
Click here for a list of Fine Art Objects
Click here for more on Dr. Karen Mulhallen